Featured products
Product Categories
Gift Vouchers
16th August 2015 - Join UK Starlet Owners on our own Display at the UK's 2nd Biggest Japanese Car Show, Japfest 2 2015!
The 2nd Biggest Japanese Car Show in the UK at Rockingham Motor Speedway is a truely epic show.  
Join a Convoy from your local area....
Join the Main Convoy to the Meet Point to Collect Tickets....
Convoy with 50+ Starlets to the Show.... Doesnt Get Any More EPIC!
Huge Trade Village
Track Time
BDC Drifters
Magazine Cars
Club Stands
UK Starlet Owners has been the Biggest Club Stand for the Past 3 Years!
Track Time needs to be purchased directly from Japfest, see here:
https://flameconcepts-kelseymedia.booking-form.com/booking/new/packageId/530
For those who havent been before...
Rockingham
Mitchell Road
Corby
Northamptonshire
NN17 5AF
Meet Point, Convoy To Show... Enjoy The Day on UKSO's Private Stand.  
To get a space on the UK Starlet Owners Stand within the Show Grounds. You need to purchase your ticket through our website, see here:
http://www.ukstarletowners.com/store/product/31-japfest-2-2015-ukso-stand/
Details of Convoys & Meet Points can be found in the Japfest 2 Section of the UK Starlet Owners Forum, Found Here:
http://www.ukstarletowners.com/forum/320-japfest-2-2015/
Dont expect to purchase a ticket directly from Japfest, then expect to get onto the club stand!
Ticket Price Covers Cost of Ticket, PayPal Fee's & Postage!  
Ticket Price is Per Person.
Stand Pass's are required to get your car onto the showground.
Change Ticket Quantity In Cart View before Checkout.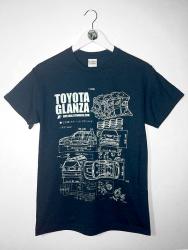 Totally Original & Exclusive to UKSO thanks to our friends over at Tuner Lifestyle
Featuring a unique blueprint design & style, these shirts are available both for EP82 and EP91 owners, in a range of colours and sizes!  
Sizes Available - Chest (to fit)
S - 34/36" M - 38/40" L - 42/44" XL - 46/48" 2XL - 50/52"
Please Allow 3-5 Working Days for your item to arrive.
If a Design/Colour/Size is unavailable. You will be offered an alternative or a full refund.
Store